Citybox Helsinki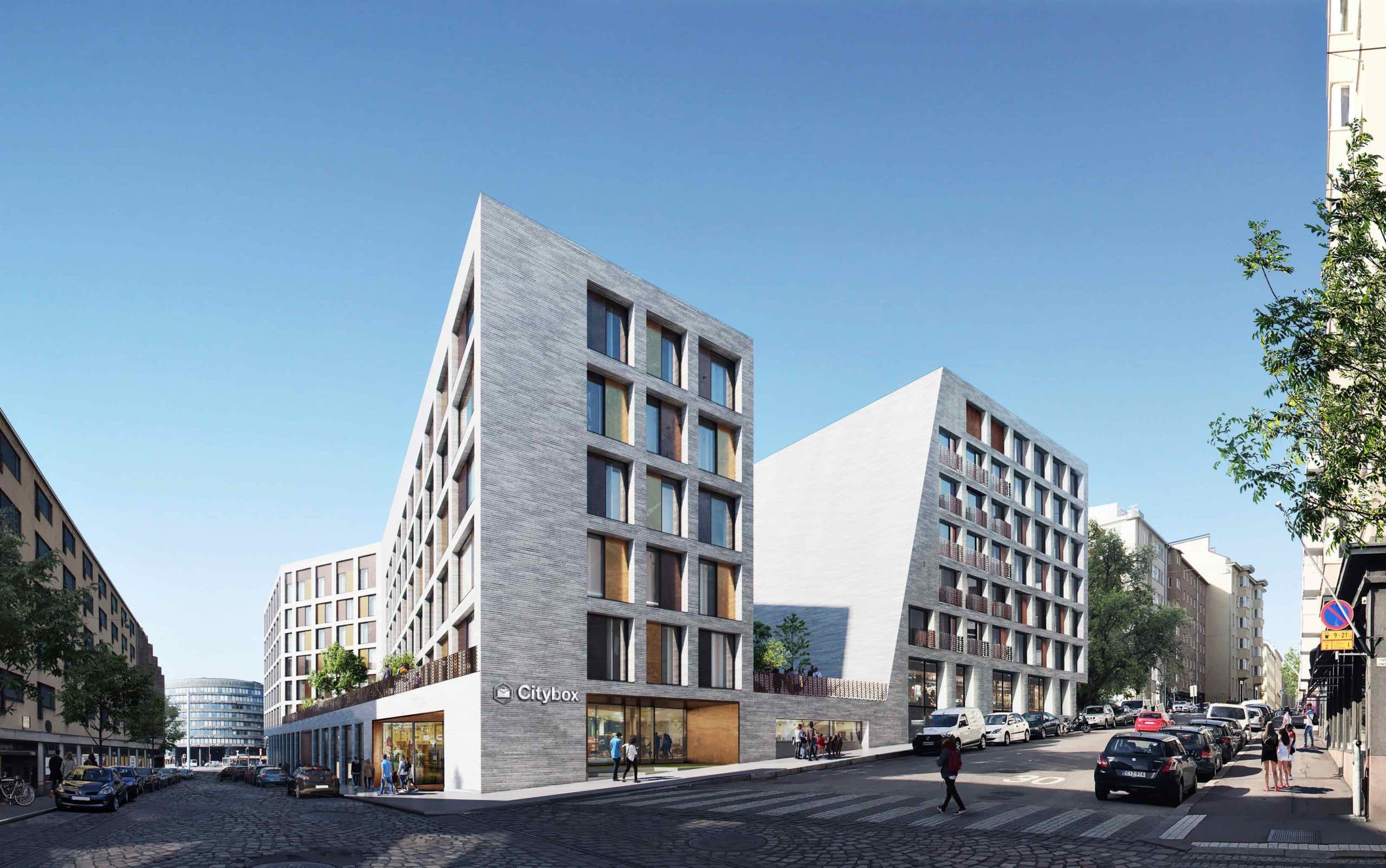 Citybox Helsinki is opening in 2024. We are opening our very first hotel in Helsinki together with Ylva. The hotel will have 178 rooms located in one of the most sustainable hotel buildings in Finland.
The brand-new building project, Lyyra, is being built in Hakaniemi. It includes an office block, an apartment building, and a hotel. Upon completion, Lyyra will accommodate several new services to the area. This includes cafés and restaurants along a pedestrian street covered by terraces. Citybox will provide functional and affordable, high-quality accommodation to those visiting Helsinki.
"I'm very pleased to be able to welcome Citybox to Helsinki. The Citybox concept and the Kallio neighborhood are a true match, and both parties are eager to see the hotel open. It's also great to see that the operators in the hospitality business are able to look into the future despite the challenging market situation". Ylva's Real Estate Director Ville Vaarala.
Partnering up with Ylva
"We are excited to have partnered up with Ylva for our first hotel in Finland. Lyyra provides everything we are looking for in a new project. A vibrant area and an exciting building with an owner that shares our vision for the future regarding sustainability, says Citybox Chairman Martin Smith-Sivertsen.
"Opening Citybox Helsinki is in line with our strategy to expand to cities in the Nordic and Baltic countries, as well as selected cities in northern Europe. We are sure that Helsinki and Ylva are a perfect match for Citybox. The city needs a modern hotel that focuses on sustainability. We can offer low rates in a hotel market with limited budget alternatives. We are really looking forward to the opening, and we are sure that this is something that the market will love.", says CEO of Citybox, Eivind Hjulstad.
Relying on Scandinavian design, Citybox provides innovative solutions with services based on digital user experience. We're talking efficient room layouts, and fuss-free services without making compromises in quality or customer experience.
The most sustainable hotel building in Finland
In Lyyra, sustainability comes first in everything, the building process included. One of the main objectives of this project is to construct Finland's most sustainable hotel building. Ylva is in the process of applying for the international LEED Platinum certificate for the building. LEED is globally recognized as the highest symbol of sustainability, achievements, and leadership. All parts of Lyyra, including Citybox's premises, are applying for the highest energy class (Energy Class A) regulated by the Finnish Ministry of the Environment. 
The hotel's interior will have a strong focus on sustainable materials, with an emphasis on longevity and functionality. One of the chain's most identifying features is its use of Bolon-flooring throughout its hotels. The flooring is made of woven vinyl, designed and manufactured in Sweden. Recycled materials are used in 100% of the collections, and the maintenance is chemical-free. It is also recommended by the Norwegian Asthma and Allergy Association.