Citybox and Eiendomsspar have signed an agreement for a new hotel with 346 rooms in Tromsø.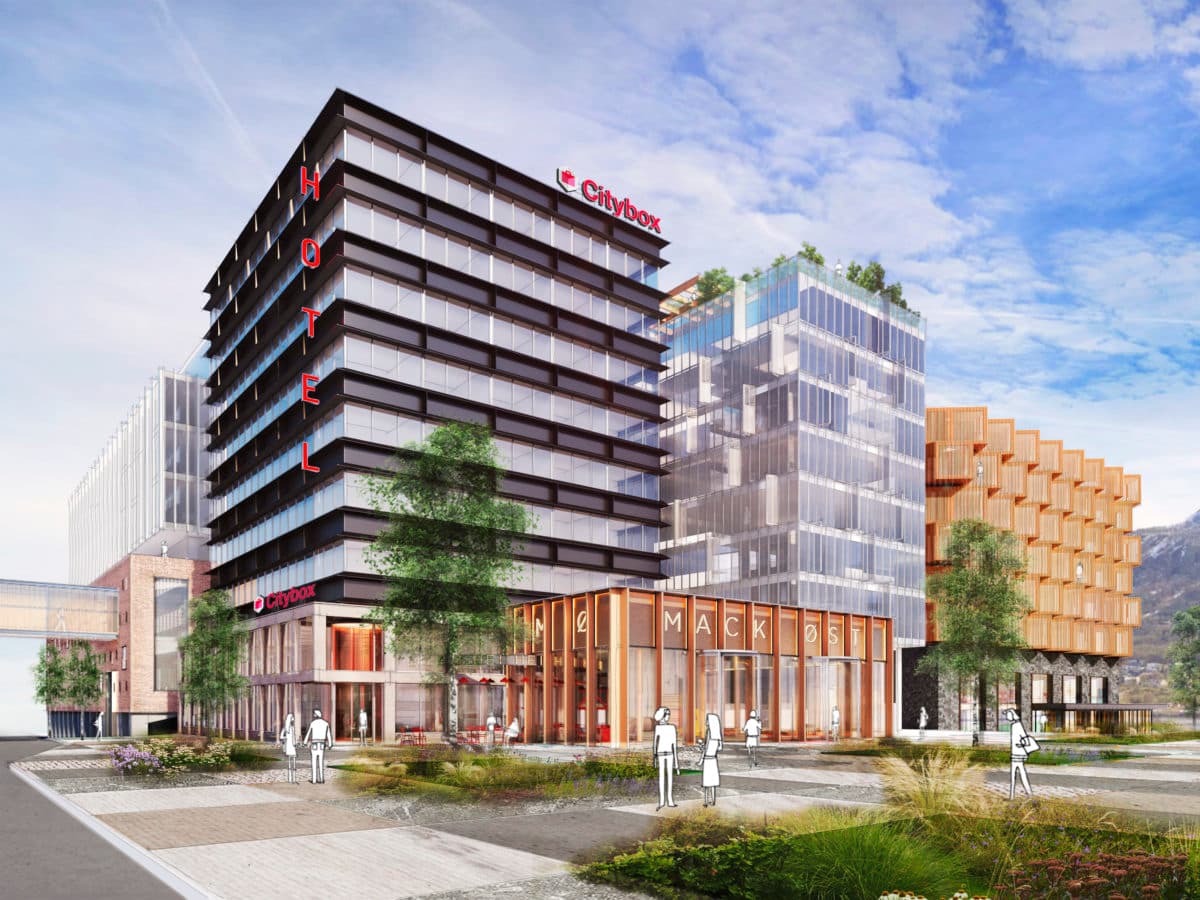 Despite hard times, Citybox continues the chains planned expansions and signs an agreement with Eiendomsspar for 346 rooms in central Tromsø. When opened, the hotel will be the largest in Northern Norway.
– We are confident that Citybox and the exciting city of Tromsø will be a good match, where we can offer affordable hotel rooms to the market without compromising on quality, says chairman of Citybox, Martin Smith-Sivertsen.
The planned hotel will be part of a larger development of the former Mack-property. It will consist a market street with restaurants, offices, a school, and a possible Arctic concert hall. The plan proposal will soon be up for consideration in the municipality.
Citybox has, for a long time, wanted to establish a hotel in Tromsø. With a modern concept and a low price level, they, together with Eiendomsspar, want to make Tromsø more accessible for travelers looking for affordable accommodation.
– As a developer, we think long-term, and we are not going to let a pandemic shake our assessment of Tromsø as a tourist destination of the future. Tourism will be an even more important industry for the city once the world can reopen. We are glad to have partnered up with Citybox who runs a modern and future-oriented concept. Soon, the city's tourism industry can offer guests good quality accommodation at a lower price. This will make it possible for many people to experience Tromsø, says Deputy CEO of Eiendomsspar Sigurd Stray.
At Citybox you won't find an old-fashioned reception or minibar. Guests check-in and out via terminals, and in this way, they save both time and money while traveling.
-Our concept is all about keeping prices low by offering new, simple, and modern rooms. Modern frequent travelers don't want to pay for decorative pillows or in-room minibars. We focus on what our guests value the most. A new and modern hotel room with Scandinavian design, a good bed, speedy self-service check-in, and most important of all: value for money, says CEO OF Citybox, Eivind Hjulstad.
2020 was challenging for the hospitality industry. With substantial travel restrictions still in place, Citybox is not expecting the start of this year to be easy. Still, they are going forward with the chain's planned expansion.
– Corona has been difficult for everyone in the tourism industry. Now we can see the light at the end of the tunnel. We strongly believe that the tourism industry, especially in Tromsø, will make a strong recovery after the pandemic, says Hjulstad.